| | |
| --- | --- |
| Price: | $184.95 |
| Availability: | Out of Stock |
| Prod. Code: | WP004 |
by Studio Anne Carlton (SAC)
Chess Pieces: Heavy ground stone and polyresin
King Pooh Height: 3.5" (88mm);
Complete with Illustrated Folding Chess Board and a Full Set of Rules
Our hand decorated version of this timeless theme chess set design. Based on the characters created by A.A. Milne and beautifully illustrated by E.H. Shepard this theme chess set recreates the wonderful world of Winnie the Pooh for chess lovers young and old.
Translated into almost every known language, Winnie the Pooh and his friends have universal appeal. In 1966 Walt Disney brought the stories to film and in 1977 the first feature length animated film of Pooh in 'The Many Adventures of Winnie the Pooh', was released. All the main characters from the stories are represented in this theme chess set from Winnie the Pooh, Kanga and Owl to Tigger, Eeyore and Piglet.
The King is represented by Winnie the Pooh himself and the queen by Kanga, the sweet caring mother of baby Roo...
The gloomy grey donkey, is the knight and the owl, supposedly the wisest creature in 100 Acre Wood, is the bishop...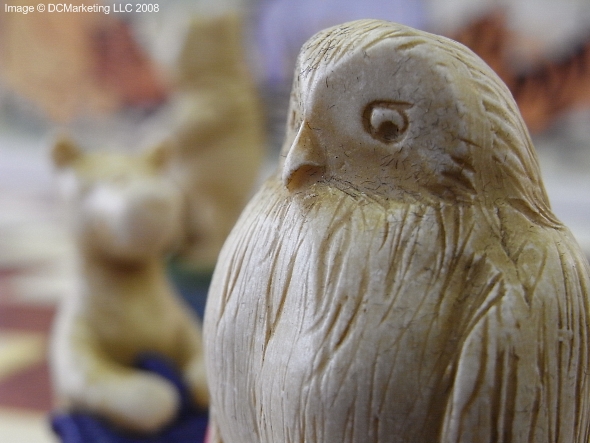 The bouncy Tigger is the Rook and Piglet, Pooh's best friend, is the pawn...
This beautiful theme chess set appeals to all ages and comes complete with an illustrated board and a full set of rules.
About your CheckmateChessSets products...
Our commitment to you and your complete satisfaction here at your CheckmateChessSets means that we are only prepared to present to you theme chess pieces and chess boards of the highest quality and craftsmanship. Derived from original sculptures, all the themed chess pieces featured within your catalogue here at CheckmateChessSets are authentic high quality items.
---
You don't need a PayPal Account to pay via PayPal!
Order Online: 24 hours a day - 7 days a week - 365 days a year
Important Disclaimer: The products featured at checkmatechesssets.com are neither designed
nor intended for use as toys and are not suitable for children under 6 years of age
checkmatechesssets.com is wholly owned and operated by DC Marketing Services Limited,
a company incorporated in England
Copyright DC Marketing Services Limited 2020 - All Rights Reserved
Home | Tell-A-Friend | Alice In Wonderland | Lord of the Rings Chess | Sherlock Holmes Chess | American Themes | Battle Themes | Fantasy & Legend Themes | Golf Theme | Historical Themes | Medieval & Gothic Themes | Music & Cultural Themes | Decorated Themed Chess Sets | Plain Chess Piece Sets | Isle of Lewis Chess | Wood Chess Boards | Kids Chess Set | Replacement Chess Pieces | About Us | Contact Us | Payment & Security | Shipping | Returns | Privacy | FAQs | Terms & Conditions | Sitemap
Lord of the Rings Chess is our new Blog dedicated to Lord of the Rings