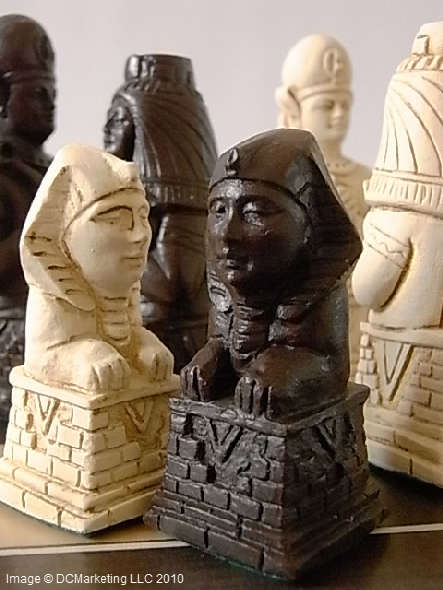 We are sure that you will be delighted when you receive your theme chess set from checkmatechesssets.com but we will not be completely satisfied unless you are!
Before detailing our returns policy here's just a brief reminder about the nature of the product we offer...
Always remember that the ornamental theme chess sets featured at checkmatechesssets.com are completely handmade by skilled artisans. Upon close examination you may therefore find slight variations in colour and size within a set.
It is these slight variations that make your chess set unique and specifically yours. No two of our theme chess sets are absolutely identical and the slight variations to be found should be viewed as the fingerprints that identify your theme chess set as uniquely yours and no-one else's!
Faulty Goods
All reports of faulty goods must be made in writing by e-mail to us at contact@checkmatechesssets.com within 10 working days from receipt of the goods.
To enable us to deal with your problem please state the following when e-mailing us:
Items purchased
The date you purchased the goods
Details of the fault(s)
Your name, address and daytime contact details
Change of Mind
In the event that the goods are not faulty but you have found them unsuitable for any other reason you may return the goods within 10 working days from receipt. Provided the goods are in a suitable condition for resale we will forward to you a full refund. Please note in such an event the cost of return postage and packing will be at your own cost.
Insurance
All product returned to us is done so at your own risk. You are therefore strongly advised to secure appropriate insurance at the point of despatch.
Our Returns Policy does not affect your statutory rights.
About your CheckmateChessSets products...
Our commitment to you and your complete satisfaction here at your CheckmateChessSets means that we are only prepared to present to you theme chess pieces and chess boards of the highest quality and craftsmanship. Derived from original sculptures, all the themed chess pieces featured within your catalogue here at CheckmateChessSets are authentic high quality items.
---
You don't need a PayPal Account to pay via PayPal!
Order Online: 24 hours a day - 7 days a week - 365 days a year
Important Disclaimer: The products featured at checkmatechesssets.com are neither designed
nor intended for use as toys and are not suitable for children under 6 years of age
checkmatechesssets.com is wholly owned and operated by DC Marketing Services Limited,
a company incorporated in England
Copyright DC Marketing Services Limited 2020 - All Rights Reserved
Home | Tell-A-Friend | Alice In Wonderland | Lord of the Rings Chess | Sherlock Holmes Chess | American Themes | Battle Themes | Fantasy & Legend Themes | Golf Theme | Historical Themes | Medieval & Gothic Themes | Music & Cultural Themes | Decorated Themed Chess Sets | Plain Chess Piece Sets | Isle of Lewis Chess | Wood Chess Boards | Kids Chess Set | Replacement Chess Pieces | About Us | Contact Us | Payment & Security | Shipping | Returns | Privacy | FAQs | Terms & Conditions | Sitemap
Lord of the Rings Chess is our new Blog dedicated to Lord of the Rings