| | |
| --- | --- |
| Price: | $209.95 |
| Prod. Code: | CS49 |
by Mascott
Made in England
King Height: 4"
Chess Pieces: Plain theme chess pieces in crushed marble and resin complete with felted underlay
Chess Board Not Included: We recommend our matching Black Wengue & Maple Chess Board (1.75" / 4.5cm squares) featured in the images of this set. Click here to view in detail / purchase this chess board: Product Code H500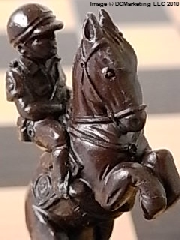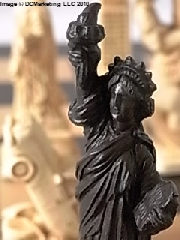 The unmistakeable and breathtaking New York skyline! Not to mention the mounted police and cars. Yes, it's all here in our special New York Limited Edition theme chess set.
The King is represented by The Empire State Building. Constructed during the Great Depression at a total cost of $40,948,000 (including the land), the Empire State Building was officially opened on May 1, 1931, taking just 1 year and 45 days to complete. For the following 40 years it was to hold the record as the largest skyscraper in the world! The total height is 1,454 feet.
The Queen is represented by the Statue of Liberty. Officially dedicated on October 28, 1886, this timeless symbol of freedom and democracy was actually a joint venture between America and France in recognition of the international friendship forged between the two countries during the American Revolution.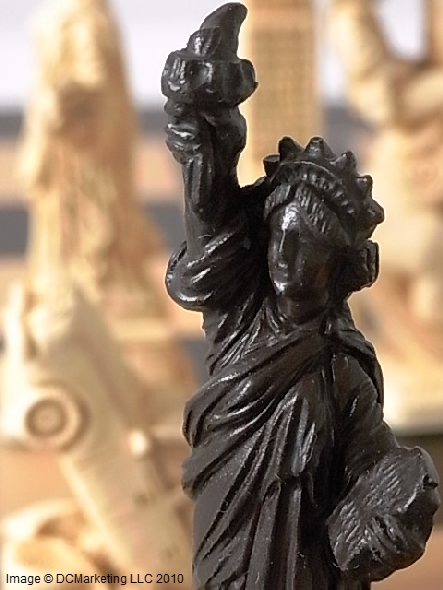 The Bishop is represented by the Chrysler Building. Built in 1930, the Chrysler Building is the epitome of Art Deco. Built by the car manufacturer Walter P. Chrysler, the Chrysler Building successfully fended off a challenge from the Bank of Manhattan to build the tallest building at the time only to be superseded by the Empire State Building a year later! At 318 metres (1045 feet) high, it was the first building to be built higher than the Eiffel Tower in Paris.
The Knight is represented by the mounted police - first used in New York City in 1904.
The Castle is represented by the Twin Towers...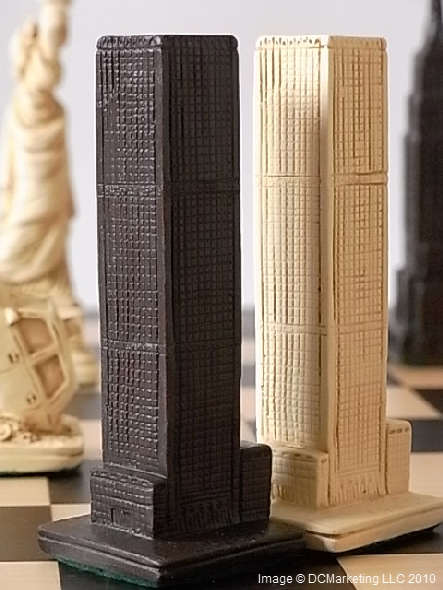 The pawns are represented by the New York cab which has been a feature of the New York streets since 1907!...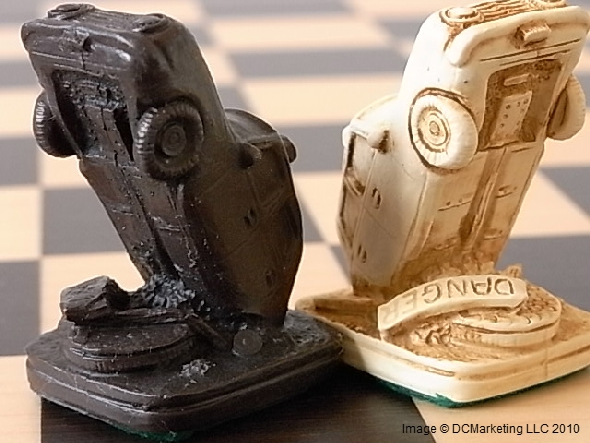 About your CheckmateChessSets products...
Our commitment to you and your complete satisfaction here at your CheckmateChessSets means that we are only prepared to present to you theme chess pieces and chess boards of the highest quality and craftsmanship. Derived from original sculptures, all the themed chess pieces featured within your catalogue here at CheckmateChessSets are authentic high quality items.
---
You don't need a PayPal Account to pay via PayPal!
Order Online: 24 hours a day - 7 days a week - 365 days a year
Important Disclaimer: The products featured at checkmatechesssets.com are neither designed
nor intended for use as toys and are not suitable for children under 6 years of age
checkmatechesssets.com is wholly owned and operated by DC Marketing Services Limited,
a company incorporated in England
Copyright DC Marketing Services Limited 2020 - All Rights Reserved
Home | Tell-A-Friend | Alice In Wonderland | Lord of the Rings Chess | Sherlock Holmes Chess | American Themes | Battle Themes | Fantasy & Legend Themes | Golf Theme | Historical Themes | Medieval & Gothic Themes | Music & Cultural Themes | Decorated Themed Chess Sets | Plain Chess Piece Sets | Isle of Lewis Chess | Wood Chess Boards | Kids Chess Set | Replacement Chess Pieces | About Us | Contact Us | Payment & Security | Shipping | Returns | Privacy | FAQs | Terms & Conditions | Sitemap
Lord of the Rings Chess is our new Blog dedicated to Lord of the Rings