| | |
| --- | --- |
| Price: | $324.95 |
| Prod. Code: | CS2 |
by Mascott
Made in England
King Height: 6" (15cm)
Historical notes included
Chess Pieces: Heavy weighted plain theme chess pieces in crushed marble and resin complete with felted underlay
Chess Board Not Included: We offer a choice for you of two high quality chess boards with sufficiently large squares to accomodate the proportions of these chess pieces. Our Christopher Columbus Plain Theme Chess Set is presented for you here photographed right here at CheckmateChessSets on the Walnut & Maple chess board which you may purchase in the Chess Boards section at CheckmateChessSets.
In our Chess Boards section at CheckmateChessSets simply choose from the following options:
Specially commissioned by the renowned English sculptor Richard Sefton, this theme chess set really brings to life Columbus' historical voyage and the native Americans he was to meet!
The European Side
The King is, of course represented by Christopher Columbus. Born around 1451 in Genoa, it was his first voyage which really brought the new found land to the attention of the entrepreneurs of Europe. The Queen is Isabella of Castille.
The Bishops are represented by Amerigo Vespucci and Fray Diego de Deza.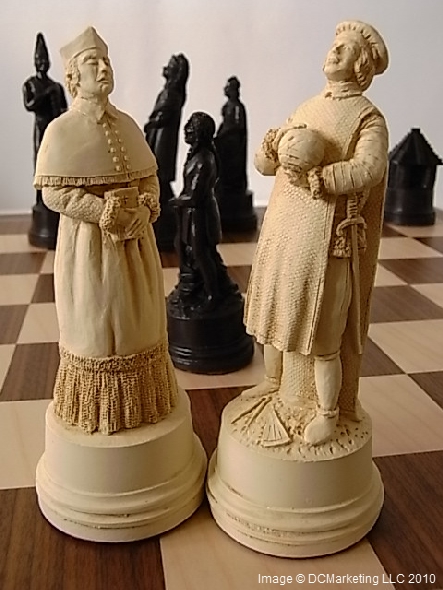 The Knights are represented by Vicente Pinzon of Palos and Martin Alonso Pinzon...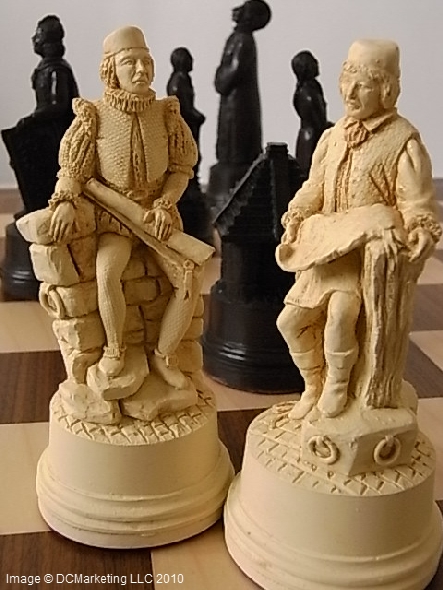 The Castle is represented by the Santa Maria, Columbus' flag ship...
The Pawns are represented by the Spanish Seamen - an eclectic mix of men, some of whom were ex-criminals. Approximately 90-100 went on the voyage in three ships...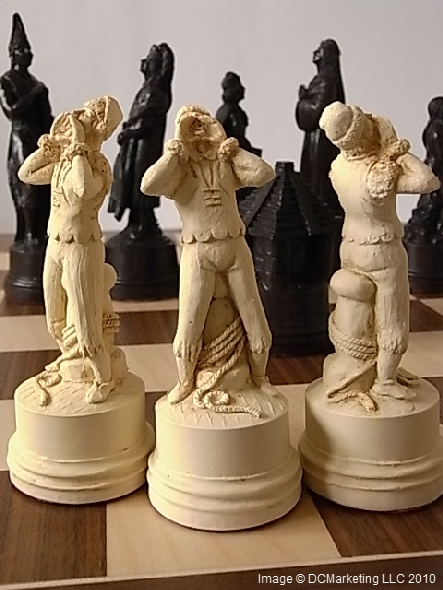 The American Side
Beautifully high quality theme chess pieces depicting some of the native Americans at the time of Columbus's voyage.
The King is the Emperor Montezuma...
The Queen is presented by an Inca Sun Virgin...
The Bishops are represented by a Mayan Priest and an Aztec High Priest...
The Knight is represented by an Inca Warrior...
The Castle is The Temple of Kukulcan at Chichen Itza...
The Pawn is represented by the Carib Indians...
About your CheckmateChessSets products...
Our commitment to you and your complete satisfaction here at your CheckmateChessSets means that we are only prepared to present to you theme chess pieces and chess boards of the highest quality and craftsmanship. Derived from original sculptures, all the themed chess pieces featured within your catalogue here at CheckmateChessSets are authentic high quality items.
---
You don't need a PayPal Account to pay via PayPal!
Order Online: 24 hours a day - 7 days a week - 365 days a year
Important Disclaimer: The products featured at checkmatechesssets.com are neither designed
nor intended for use as toys and are not suitable for children under 6 years of age
checkmatechesssets.com is wholly owned and operated by DC Marketing Services Limited,
a company incorporated in England
Copyright DC Marketing Services Limited 2020 - All Rights Reserved
Home | Tell-A-Friend | Alice In Wonderland | Lord of the Rings Chess | Sherlock Holmes Chess | American Themes | Battle Themes | Fantasy & Legend Themes | Golf Theme | Historical Themes | Medieval & Gothic Themes | Music & Cultural Themes | Decorated Themed Chess Sets | Plain Chess Piece Sets | Isle of Lewis Chess | Wood Chess Boards | Kids Chess Set | Replacement Chess Pieces | About Us | Contact Us | Payment & Security | Shipping | Returns | Privacy | FAQs | Terms & Conditions | Sitemap
Lord of the Rings Chess is our new Blog dedicated to Lord of the Rings